at Super Dakota, Brussels
27 May - 2 July 2016
As a child, I met a woman called Brook, she was the mother of a vague friend I had in the South of France, at my grandma's place.
Brook's brother was called Sky. Sky was also the name of my grandma's cat, such an intelligent and beloved one that she buried his ashes next to her son.
I think Brook and Sky's mum was called Pat. In the village, it was known that Brook and Sky were named accordingly to the places of their conception,
Brook was conceived by a river and Sky on a plane.
My window shows the travelling clouds
Leaves spent, new seasons, alter'd sky
The making and the melting crowd
The whole world passes; I stand by.

- G. H. Hopkins, extract from The Alchemist in the City, (1865-1866)
Brook is an evolving video programme designed to promote artists' video work, moving image, sound or text based practices across borders.
Brook is brought to life by curators Róisín McQueirns and Rosanna Puyol, the artists showing their work and the spaces hosting us.
Voyager léger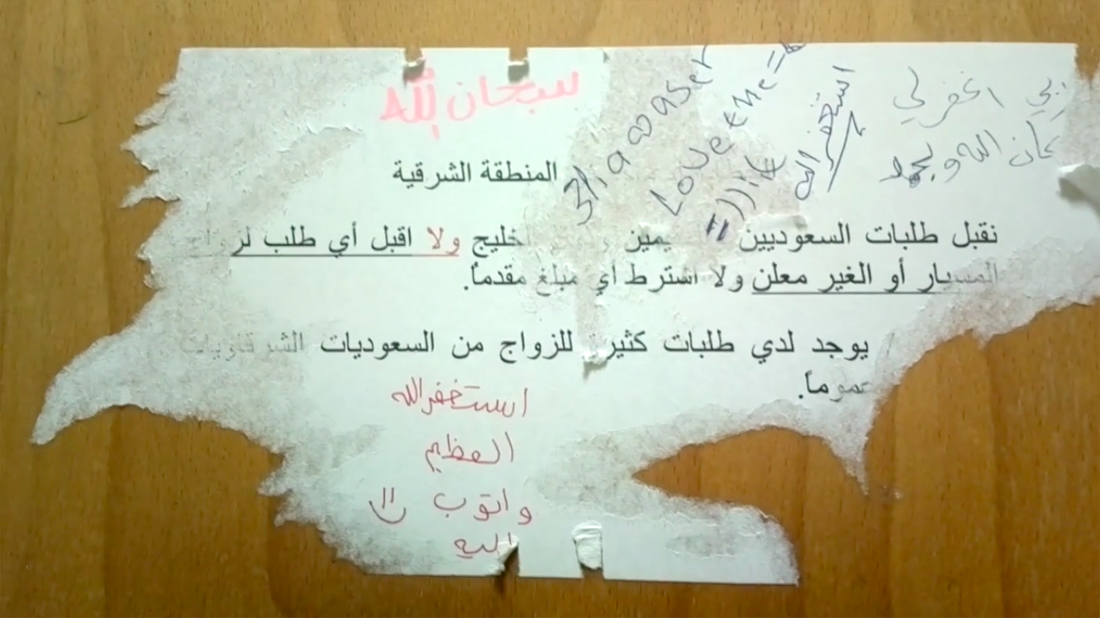 Sarah Abu Abdallah, Out to Lunch, 2014 (9'54 min) Image courtesy of the artist

Sarah Abu Abdallah was born in Qatif, Saudi Arabia (1990), where she also lives and works. She received an MFA in Digital Media from the Rhode Island School of Design in 2015.
Recent exhibitions include: Co-Workers, Musée d'Art Moderne de la Ville de Paris, Paris (2015-2016); To Gaze at Ten Suns Shining - project with Josh Bitelli, POOL, Hamburg (2015); Prospectif Cinéma / Filter Bubble, Centre Pompidou, Paris (2015), Private Settings, Museum of Modern Art, Warsaw (2014-2015); Arab Contemporary, Louisiana Museum of Modern Art, Copenhagen (2014); Serpentine Galleries 89plus Marathon, London (2013); Sharjah Biennial 11 (2013), Rhizoma, 55th Venice Biennale (2013).
Sarah is currently Artist in Residence at the White Building, London, taking part in This Time With FEELing residency cycle.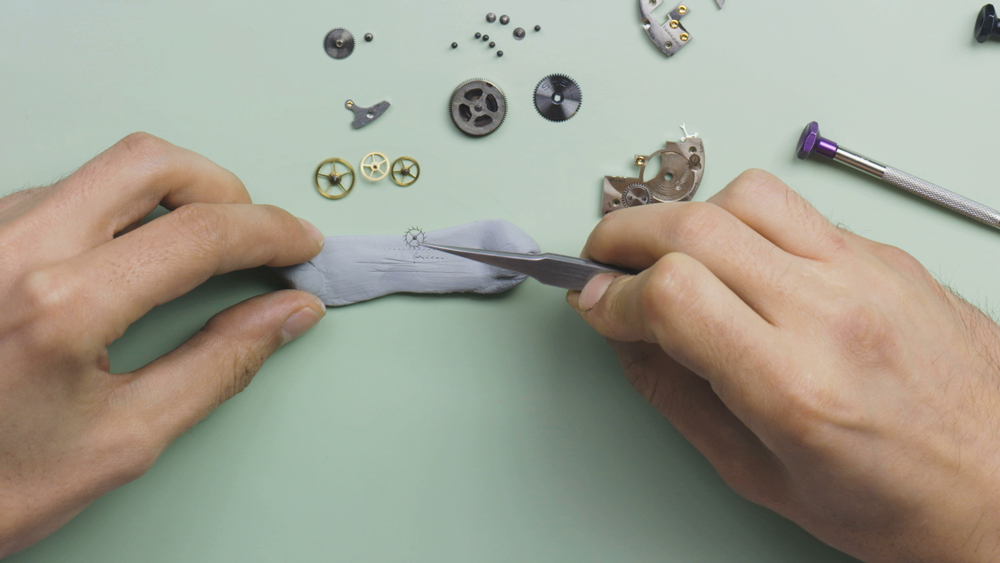 Valerie Snobeck, Go Soft, 2014 (60'38 min) Image courtesy of the artist and Simon Lee Gallery, London/Hong Kong

Valerie Snobeck was born in Wadena, Minnesota (1980) and lives and works in New York.
She has been awarded residencies at Fondation Galeries Lafayette, Paris, France (2014) and The Harveyville Project, Harveyville, KS (2006), and was awarded a Teaching Fellowship at The University of Chicago (2008). She has had numerous solo exhibitions worldwide including at Simon Lee Gallery, Hong Kong (2016), Essex Street Gallery, New York (2015), Wallriss Kunstraum, Fribourg, Switzerland (2015), Simon Lee Gallery, London (2014), Galerie Catherine Bastide, Brussels (2013), Le Consortium, Dijon, France (2012), Smart Museum of Art, University of Chicago (2012), The University of Delaware (2011), 8 Rue St. Bon, Paris (2010) and DOVA Temporary, Chicago (2009). Group exhibitions include: Les Abattoirs, Toulouse, France (2015), Fondation Lafayette, Paris (2014), Centre National Edition Art Image, Paris (2014), DEPART Foundation, American Academy, Rome, Italy (2013), Gemeentemuseum, The Hague, The Netherlands (2013) and The Sculpture Center, Long Island City, NY (2011). Snobeck participated in the 2014 Whitney Biennial, NY and Basel Parcours, Switzerland in 2013. She received a MFA from the University of Chicago and a BFA from St. Cloud University. Valerie will have a solo exhibition at FRAC Champagne-Ardenne, Reims, France, in September 2016.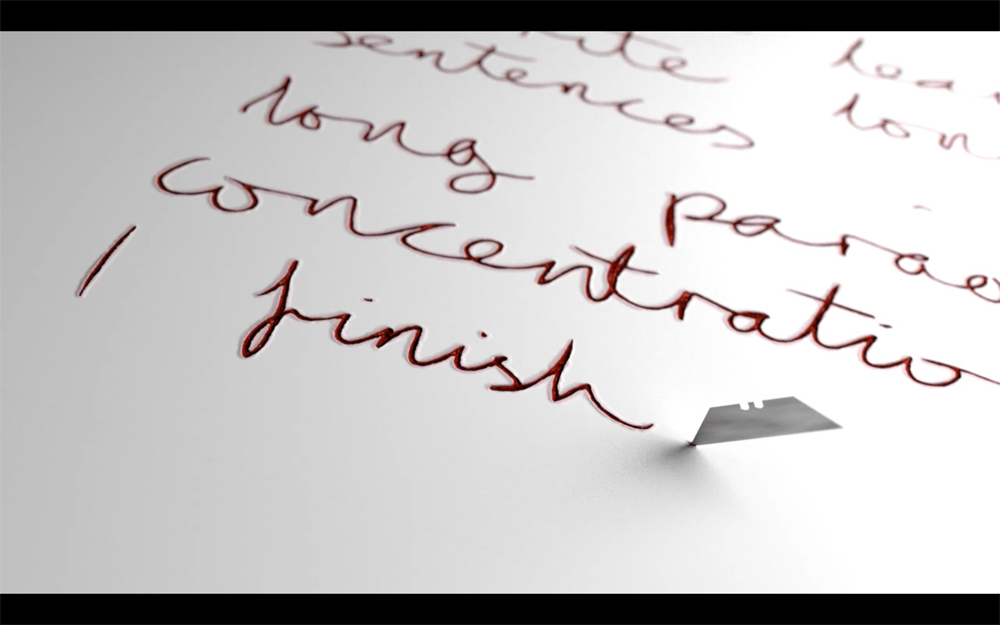 Gabriel Stones, Dynamic Cut, 2014 (8'30 min) Image courtesy of the artist

Gabriel Stones was born in Cumbria, UK (1984) and lives and works in London.
His practice relies on an analytical approach to art and literature. He works with computer graphics, animation, installation and text. Current work, formally driven by software physics engines, sets out to test autobiography and diaristic writing as a means towards production.
Recent solo presentations include: Dig Yourself at Laure Genillard Gallery, London (2016); Joe Brainard Fan Fiction at Plaza Plaza, London (2015) and Meat Eater at Outpost Gallery, Norwich (2015). Gabriel graduated from the Royal Academy Schools in 2014.
Please join us for the opening of the programme alongside Hugo Pernet solo exhibition at Super Dakota on Thursday, May 26th from 6 to 9pm.
Super Dakota
45 rue Washington | Washingtonstraat, B - 1050 Brussels
t. +32 (0)2 649 17 72
For further information please contact the gallery at contact@superdakota.com.